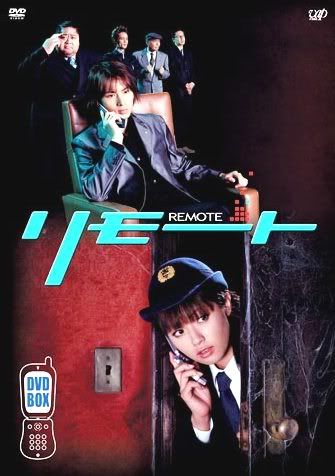 Info
Title: Remote (Japanese: リモート)
Episodes: 10
TV Station: NTV
Broadcast Time: October 12, 2002 to December 14th, 2002 on Saturdays at 21:00
Genre: Comedy, mystery, cop show
Average TV Rating: 10.7%
Cast
Domoto Koichi as Himuro Kosaburo
Fukada Kyoko as Ayaki Kurumi
Konishiki as Bob Kato
Nagura Jun (名倉潤) as Otaguro Keibu
Tamaki Hiroshi as Shingo
Sakai Miki as Sakaki Naomi
Kimura Yoshino as Sakaki Yuka
Takasugi Ko (ep5,6)
Waki Tomohiro as Fudo Shinichi (ep6)
Matsumoto Rio as Karen Chikumagawa (ep8)
Kinouchi Akiko
Eita as Sawamura Keisuke
Inoue Yoshiko
Maeda Ken (ep8)
Synopsis
Locked away deep in his home and hiding a secret that keeps him there, Detective Kozaburo Himuro remains ever vigilant in his duties of police work. But how does the wunderkind detective investigate crime scenes without ever stepping out of his home? Enter traffic cop Kurumi Ayaki. She's a young lady who's about to marry and resign from the force when tasked with being Himuro's eyes and ears on the beat. While on the scene of the crime their only means of communication is via mobile phone. Together they investigate a series of mind-boggling murder mysteries that put them, particularly Kurumi, in constant danger. Can Kurumi keep up with Detective Himuro, and the fast-paced and dangerous work of criminal investigation?
Awards
35th Television Drama Academy Awards:
Best Supporting Actor: Domoto Koichi
Best Theme Song: Solitude "Shinjitsu no Sayonara" - Kinki Kids
6th Nikkan Sports Drama Grand Prix:
Best Supporting Actor: Domoto Koichi
My Review
This show I think is pretty darn good. It manages to mix well executed comedy with some really serious and heartwarming moments. The combination of comedy and mystery is really entertaining and interesting in this drama. The two main characters have very contrasting personalities, which makes it even more fun. Domoto Koichi plays the role of Himuro Kosaburo, a genius and stoic detective. Himuro-keiji (Detective Himuro), however, is a shut-in due to his dark past. Fukada Kyoko plays Ayaki Kurumi, a simple minded and ditzy traffic cop who only gives out parking tickets and is getting married soon. Yet Kurumi's life changes when she's picked to be Himuro's eyes on every case. Seeing these two work together and often butt heads is pretty funny, they make a really good combo. I felt these two couldn't be more suited for their respective roles. Domoto Koichi won two awards for best supporting actor in this drama and they were well deserved. Fukada Kyoko overacts but it's appropriate for her character and for the comic relief. I felt her comedic timing was well done and she put on a good performance, one of her best IMO. Konishiki, an American actor, was funny as well in his role as Bob Kato. However, the comedy isn't the only thing that's good about this series. Most of the cases are well done, and there's some really touchy moments, particularly with the school case and the revelation of Himuro's dark past. My favorite case was in Episode 8, with the character called "hungry man." This case was chillingly creepy. I also loved the ending of the series. I won't spoil it, but I'll say it was pretty funny and was a fitting ending for this drama.
Pros
* Combination of well executed comedy, mystery, and heartwarming stories make this drama really entertaining.
* Both leads put on good performances and their characters contrasting personalities make for some really funny interaction.
* Episodic but episodic done really well with well written cases and stories.
* Well-directed series.
* The Kinki Kids theme song was ok.
Cons
* Some people might find Fukada Kyoko's character a little annoying, but I personally thought she was really funny.
My Rating
9/10- Not the best show I've seen but definitely a fun watch. Highly recommended.